Since 1961, the Society for the Encouragement of Contemporary Art has recognized emerging Bay Area artists making new and innovative work. Past winners of the biennial San Francisco Museum of Modern Art SECA Art Award include luminaries like Bruce Conner, Hung Liu, Barry McGee and Jim Campbell, among others whose names are now well-known to museumgoers.
It's an award that marks a significant moment in an artist's career, but also one that can herald great promise.
The latest SECA exhibition, which opened at the museum in December, reflects both the dazzling present of the selected artists and builds anticipation about work to come from awardees Binta Ayofemi of San Francisco and Oakland, Cathy Lu of Richmond, Marcel Pardo Ariza of Emeryville, and Oakland artists Gregory Rick and Maria A. Guzmán Capron.
Stretched over six galleries on SFMOMA's second floor, the five artists' work — spanning disciplines from site-specific performances, ceramics, photography and painting to video, textile, sculpture and more — is big in size and ambition. It transforms the environment and can run the viewer through an emotional gamut. There's also an immediacy to the motifs that emerge across the individual shows: community, identity, what it means to occupy spaces and live with violence.
MARIA A. GUZMÁN CAPRON, MUCHO MÁS (FOREGROUND), EROS (BACKGROUND), AND LUNA (BACKGROUND) FROM THE INSTALLATION RESPIRA HONDO, SFMOMA. PHOTO: KATHERINE DU TIEL.
It is a showing of art and artists that feels as diverse, idiosyncratic and thrilling as the Bay Area art scene itself.
SECA awardees are selected from a group of artists nominated by local curators, arts professionals and past winners. The nominees are invited to submit portfolios for consideration and from there, 16 finalists are chosen. After studio visits and project proposal assessments, winners are chosen. This year, artists were provided with a $5,000 honorarium as well as $10,000 in production funding and access to museum resources to create their shows.
Andrea Nitsche-Krupp, SFMOMA's assistant curator of media arts, said that in first organizing this year's exhibition, she didn't expect to find so many unifying themes, "yet when the work was installed … some threads started to emerge."
"Each artist confronts some of the most traumatic, challenging aspects of humanity," said Nitsche-Krupp, who co-curated the show with assistant curator of contemporary art Jovanna Venegas, adding that the artists also seemed to aim at "putting forward a kind of reality that they want to see happen."
In a first, the exhibition is free to view through May 29, part of new SFMOMA director Christopher Bedford's spate of community-engagement initiatives that also underscores SECA's mission of building relationships between Bay Area artists and audiences.
In a recent interview and photo shoot at the exhibition, Ayofemi, Capron, Pardo Ariza and Rick came together in person to discuss the SECA experience, while Lu called in from Boston, where she is currently teaching at Tufts University.
Nitsche-Krupp said what she ultimately sees in the exhibition is "an optimism, and potential for the future that is so alive and present in each of these artists' work. It makes me excited about art making in the Bay Area, and also optimistic about life coming out of a really challenging time."
Maria A. Guzmán Capron: 'Respira Hondo'
Maria A. Guzmán Capron, Danza, 2022. Photo: Katherine Du Tiel.
Maria A. Guzmán Capron was born in Milan. She received her master of fine arts from the California College of the Arts in 2015 and her bachelor of fine arts from the University of Houston in 2004. Her exhibitions in the Bay Area include a solo show at Premier Junior in San Francisco and group exhibitions at the Contemporary Jewish Museum, Berkeley Art Center and NIAD Art Center in Richmond.
Bodily forms and patchwork motifs often recur in her work, as do explorations of class, gender and awareness of a material hierarchy.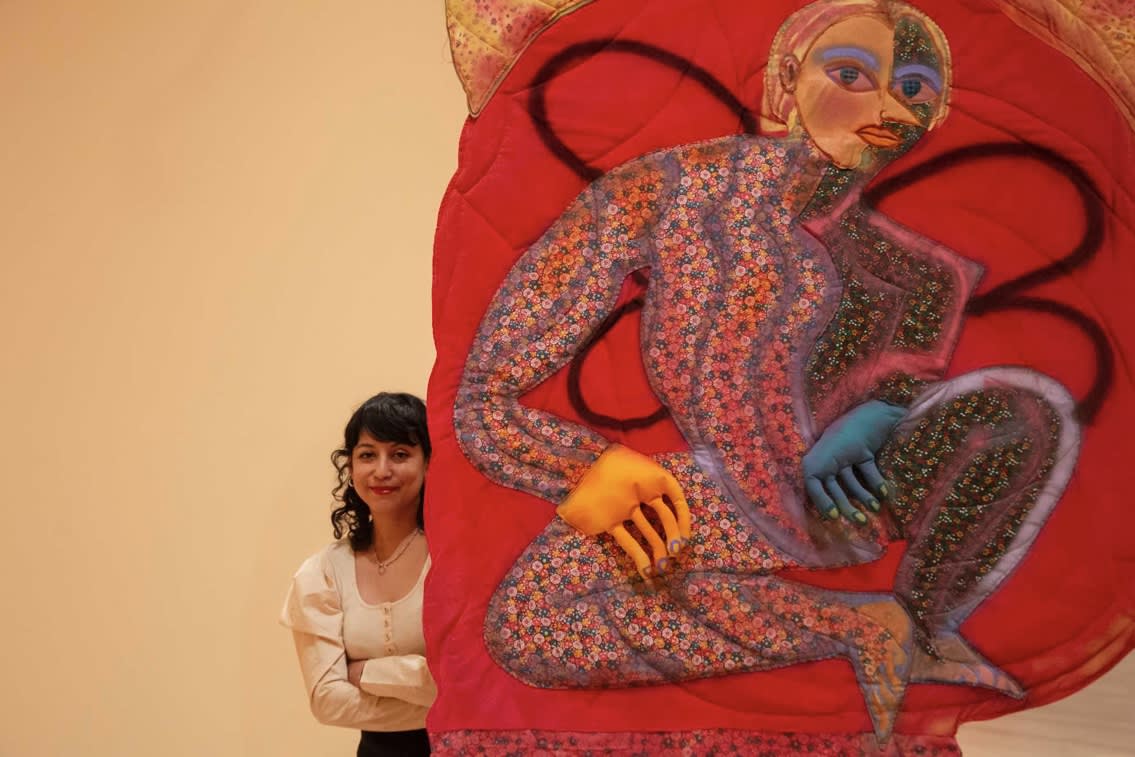 SECA Art Award recipient Maria A. Guzmán Capron. Photo: Salgu Wissmath/The Chronicle
What's on view: "Respira Hondo" tells the story of a giantess descended from the ceiling whose presence turns the gallery into a colorful surreality. Among the plush sculptures covered in remnant and mass market fabrics are the giantess' foot, her two-sided face propped up by its long strands of hair — each eye with two pupils — and wall-mounted figures meant to reflect further ideas of duality.
MARIA A. GUZMÁN CAPRON, MUCHO MÁs (Foreground), Danza (Background), From the Installation Respira Hondo, SFMOMA. Photo: Katherine Du Tiel.
In the artist's words: "I was thinking more of an internal inner world and bringing that out to be exposed in some way. The giantess, Mucho Mas, she's coming from somewhere else, from the world above us, entering our reality, stepping into it. I wanted that step to be felt, to be three-dimensional and have weight. From what I hear, people seeing the show really make a connection with the bodily weight of it, the fabric and the size. It was about that and then having the other pieces kind of as pillars of this world in which Eros, Danza and Luna all had a job in some way. Eros to emanate love and care, Danza to bring in a sense of rhythm and joy, and Luna to keep track and to store time.
All of these elements come together in this soft panel of color to create an atmosphere, an experience more than just objects on the walls."
MARIA A. GUZMÁN CAPRON, MUCHO MÁS , FROM THE INSTALLATION RESPIRA HONDO, SFMOMA. PHOTO: KATHERINE DU TIEL.
On SECA: "I think of my practice as a continuous search to represent identities … and for everyone that's being seen as other to find power in that otherness. This group has that diversity within it, and that's what makes me feel good and makes me feel comfortable to be in the spaces and galleries. I feel at home and I feel seen. I hope that all the people who come here can see themselves too within any of these spaces."