From a group show at Beyond the Streets to an exhibition of Amir H. Fallah at the Fowler, here are the best shows to see right now
Strings of Desire


Craft Contemporary


29 January – 7 May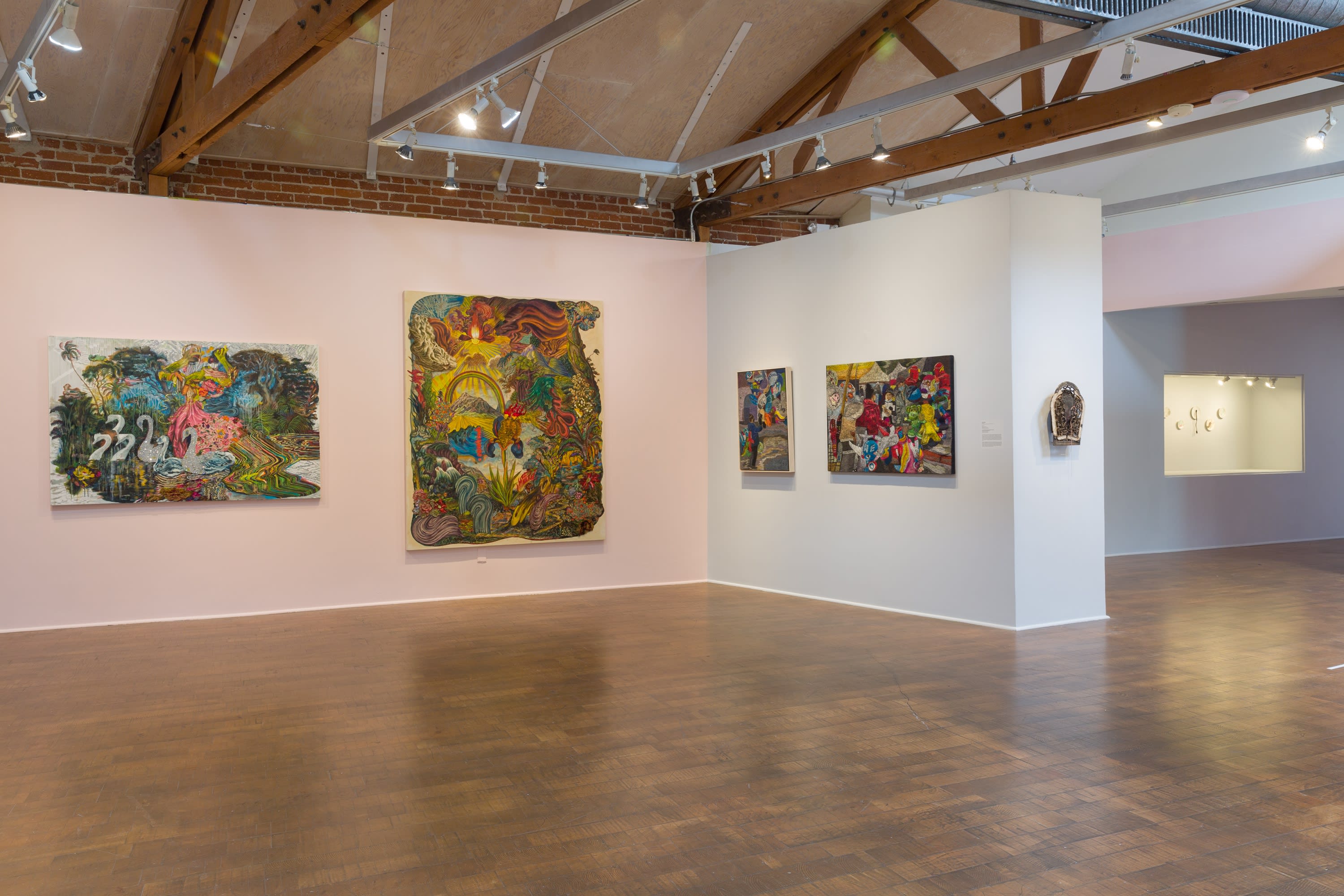 Strings of Desire, 2023, installation view. Courtesy: Craft Contemporary; photograph: Ian Byers-Gamber
Embroidery takes centre stage in 'Strings of Desire', a group show featuring 13 artists, each of whom has embedded their personal history into works that range across pattern, design, painting, sculpture and architecture. As suggested by the exhibition title, at the core of this exploration are the themes of desire and longing: to belong, connect, retrieve memories or expand our understanding of overlooked realities. Kang Seung Lee, for example, combines a three-channel video with two works created with sambe, a woven hemp textile traditionally used in Korean funerary practices, to pay homage to Korean poet Gi Hyeong-do and Chinese-American artist Martin Wong. In Untitled (Put Badly, Gi Hyeong-do) (2022), Lee uses gold thread to embroider Hyeong-do's poem Put Badly (1989) translated into American Sign Language, which Wong also used in many of his paintings. Born in Vietnam, Diem Chau combines embroidered threads with functional porcelain ware to memorialize her family's stories of immigration to the United States as refugees in 1986. Such personal connections to the medium also make space for exciting new takes on abstraction, as seen in the work of Mexican-born Miguel Osuna and Chilean-born Carmen Mardónez. Osuna embroidered cotton during regular Zoom calls with his mother who lives in Mexico, allowing them to share time across space, an idea present in his precise linework, while Mardónez chronicles the passage of time through colour, at the same moment problematizing the traditional feminine associations of embroidery with her vibrant shades of pink. A varied body of diasporic histories are woven together in a thought-provoking show that points the way to harmonious futures.
Amir H. Fallah,

Protector 1
, 2022, acrylic on canvas, 1.8 × 1.2 m. Courtesy: the artist and Ginsberg Family Collection
Amir H. Fallah turns western portraiture on its head in his first solo Los Angeles museum exhibition. His striking subjects are rendered in vibrant orange skin tones, subtly positioning them outside an artist's traditional skin colour palette, and complicating the viewer's assumptions about the racial or ethnic identities of the sitters. The figures themselves are also ambiguously rendered, represented without faces but instead with their heads covered by patterned textiles. A number of these paintings, such as

Protector 1

(2022), also feature grid-like structures with patterned geometric lines moving between planes to create a shape that
evokes everything from the work of M.C. Escher to Islamic abstract art.
Fallah combines markers of his Iranian-American identity to explore ideas of the self along with moral and political concerns. As well as paintings, Fallah makes stained-glass compositions in collaboration with Judson Studios, in which he explores the potential of colour and light. Inquisitive and creative, the artist also explores ways of presenting the self in his steel sculptures that abstract the human form to highlight geometry and pattern. By looking inward, Fallah highlights the porous nature of art as it comes to transcend the borders of geopolitics and culture.