In March 2022, the Kansas City Museum announced that it is working with International Architects Atelier and artist Summer Wheat to transform the Beaux-Arts Conservatory on the property into a light-filled sacred space entitled JewelHouse. The museum is in the early stages of design, with JewelHouse slated to open in 2024.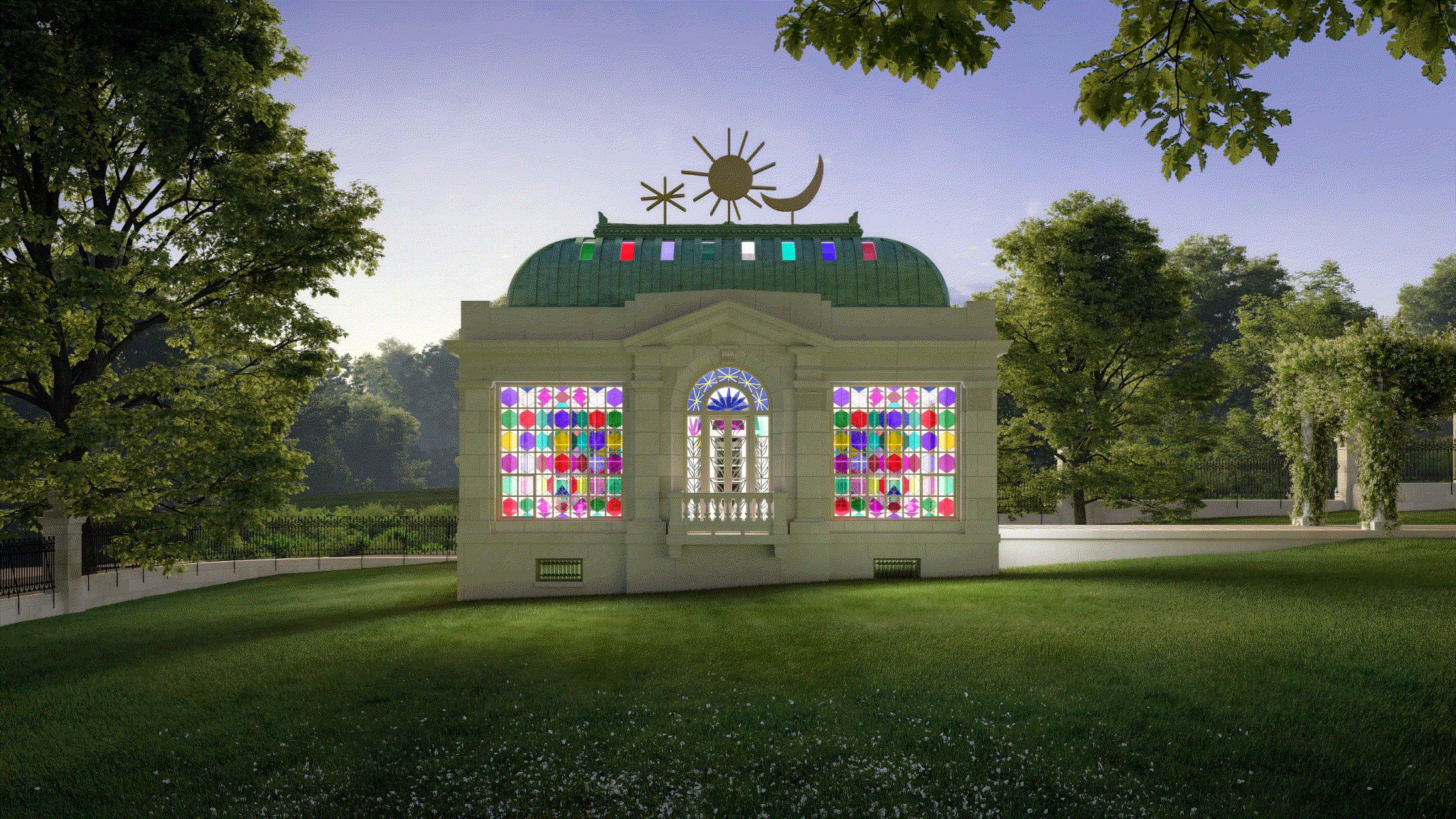 ARCHITECTURAL RENDERING, EVENING.
The restoration and renovation of Corinthian Hall, which opened to the public in October 2021, was Stage I of a multi-staged, multi-year project to rehabilitate the entire 3.5-acre historic property. Now the museum is working with International Architects Atelier on architectural design for the Carriage House, Conservatory, and the James Turrell Skyspace.
The Conservatory was completed in 1910 as part of the R.A. Long estate and built to store summer plants during the winter. At one point, the Long family also used the Conservatory as a tearoom. The Conservatory sits directly across from what was the Greenhouse (removed in the 1950s). After becoming a public museum in 1940, the Conservatory was used as a planetarium for more than 40 years.

HISTORICAL IMAGE OF THE SOUTH SIDE OF THE CONSERVATORY AND PERGOLA, CIRCA 1913.
SOUTH SIDE OF THE CONSERVATORY, PRESENT DAY. TO CREATE THE PLANETARIUM IN THE EARLY 1950S, THE ORIGINAL COPPER AND GLASS ROOF WAS REMOVED AND REPLACED WITH A DOME, AND THE ORIGINAL WINDOWS WERE REPLACED WITH WALLS PAINTED BLUE. AN ENCLOSED ENTRY CORRIDOR WAS ADDED WITH WHITE PANELING.
To create JewelHouse, the building's exterior limestone will be restored, and the interior will be renovated. The perimeter windows and the original roof made of copper and glass will be recreated, and the Pergola will be restored and redesigned. Artist Summer Wheat will produce artworks of stained glass, metal, and mosaic for the exterior and interior of the building to make a contemplative sanctuary centering the often untold, evolving stories of women and girls—past, present, and future. Visitors will discover the inner jewels (inner light) of their personal stories and the vastness of identity, memory, perspective, and belonging.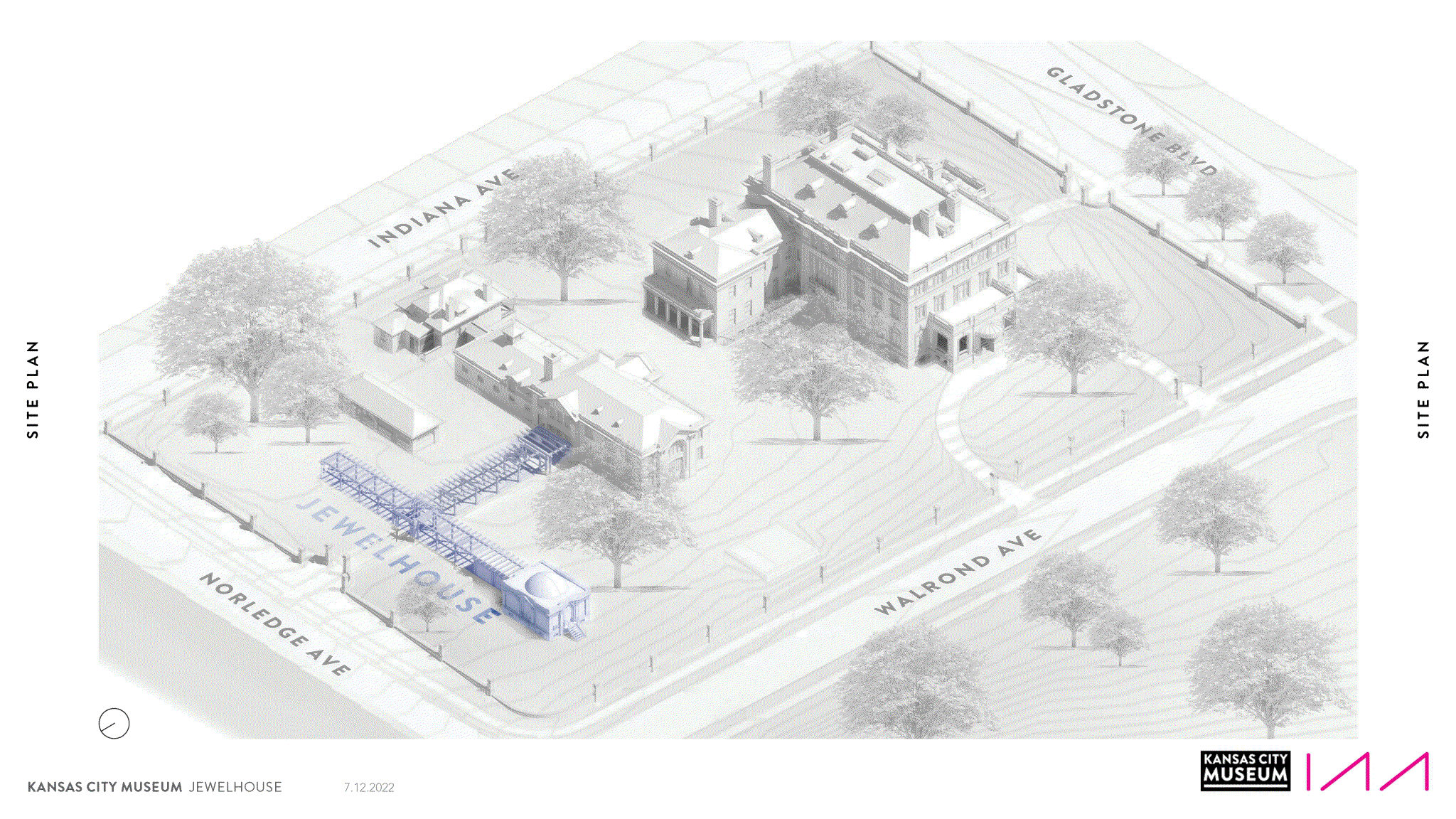 JEWELHOUSE SITE PLAN
Existing Planetarium and Proposed Restoration
Original Conservatory, Existing Planetarium, and Proposed Restoration
JewelHouse will be used for inclusive history- and humanities-based programs, performances, and events. This will be a new type of conservatory where stories and relationships will be collected, grown, shared, fortified, and protected. JewelHouse is presented by the Kansas City Museum in collaboration with the Kemper Museum of Contemporary Art.
Drawing inspiration from Henri Matisse's The Chapelle du Rosaire de Vence, Mark Rothko's Rothko Chapel, and Ellsworth Kelly's Austin, Summer Wheat's JewelHouse will breathe new life into the museum's Conservatory to create an enveloping experience of shape, color, pattern, and sound. The visitor will find a universe of intricate details, symbols, and stories to endlessly explore.
Artist Rendering, south side.
Artist Rendering, interior ceiling of
JewelHouse
.
Summer Wheat is known for her vibrant paintings, multifaceted sculptures, and immersive installations that weave together the history of materiality, figuration, and abstraction in both fine art and craft milieus. Wheat's densely populated "scapes" envision worlds where time seems to have collapsed and every person, regardless of social status, occupies a shared, equal space, in which both labor and leisure are paths to healing humanity.
The Kansas City Museum believes that acknowledging and understanding the whole story of our city's history is healing if there are opportunities in the learning process to repair harm and reestablish trust between individuals and their communities. JewelHouse is in alignment with the museum's mission and vision and advances its initiatives in creative placemaking and restorative practices. Kansas City Museum Executive Director Anna Marie Tutera and Kemper Museum Board Chair Mary Kemper Wolf emphasize that JewelHouse is where "we will come together to connect, reflect, restore, and adorn ourselves with new narratives of our collective beauty, strength, and creativity."

Concept of
JewelHouse
as a jewelry box with stained glass elements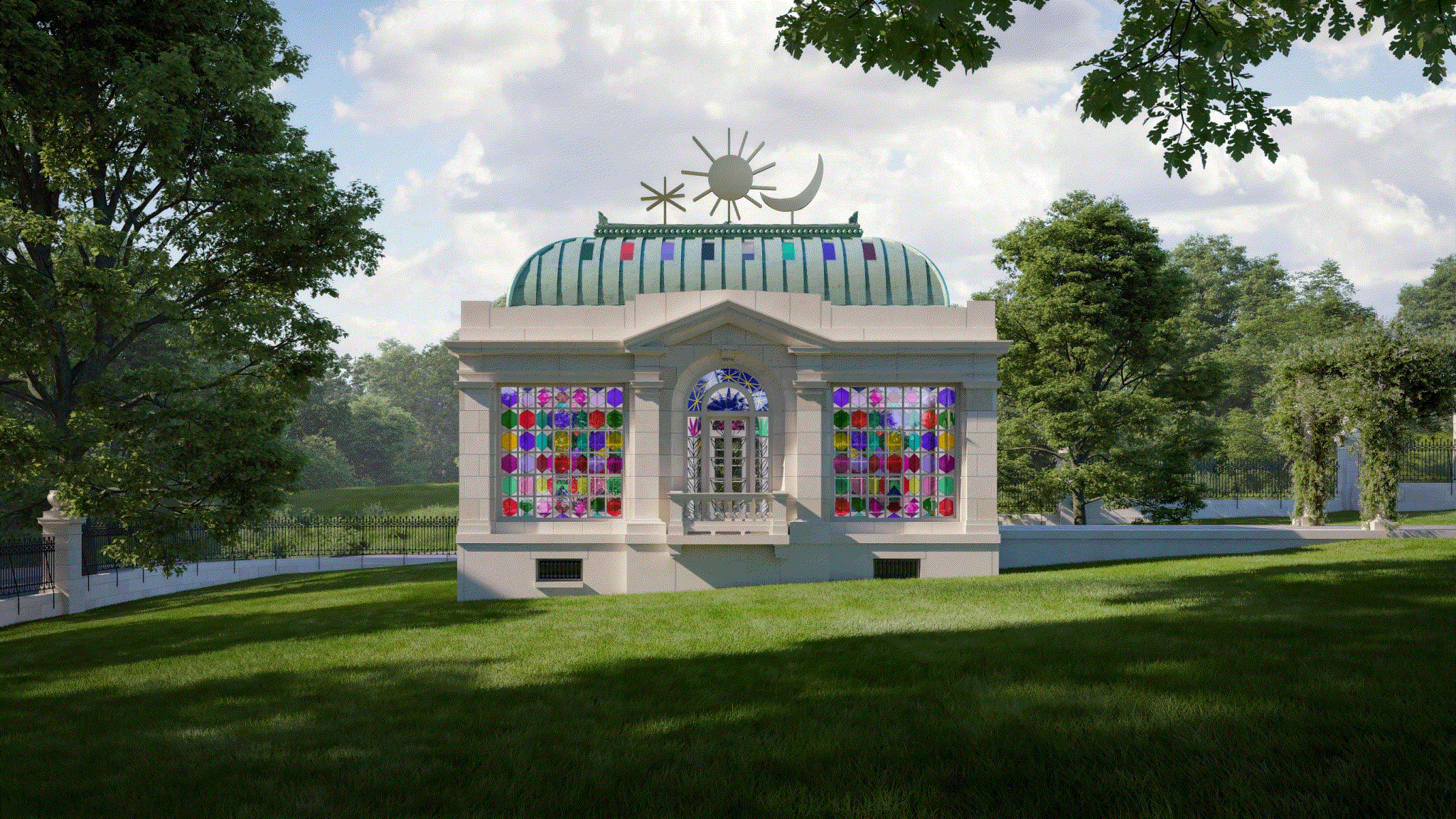 Architectural Rendering, day.
October 12, 2022