This summer, Shulamit Nazarian, Los Angeles presented "10 YEARS," a group exhibition celebrating the gallery's illustrious, decade anniversary. Founder Shulamit Nazarian and co-owner Seth Curcio chose work by over 20 artists from the gallery's program—such as Coady Brown, Amir H. Fallah, Reuven Israel, and Trenton Doyle Hancock—for the milestone presentation. "This inclusive presentation underscores the gallery's belief that artists have the unique ability to help us understand the most pressing issues of our day and to illuminate new pathways for tomorrow," said Nazarian.
For her first exhibition in 2006, Nazarian showed international artists within the walls of her own Los Angeles home designed by A. Quincy Jones. With her eponymous gallery, established in Venice, CA in 2012, she has maintained a global lens, especially uplifting artists of the Middle East, and is a true collaborator in every sense of the word. Nazarian has worked with architects, designers, and artists alike in order to beautifully mold a fiercely relevant and spirited gallery space.
Nazarian debuted its expansive Hollywood location in 2017, flourishing and coming into its own as one of the city's leading art destinations. On September 17, the gallery opened "Good Grief, Bad Grief," a second solo exhibition with Trenton Doyle Hancock, on view through October 29. The presentation examines the prolific artist's culturally-significant, fantastical mythology of the past 25 years. Whitewall had the opportunity to speak to Nazarian about reunion, representation, and taking the time to rejoice in our shared experiences.
Courtesy of Shulamit Nazarian.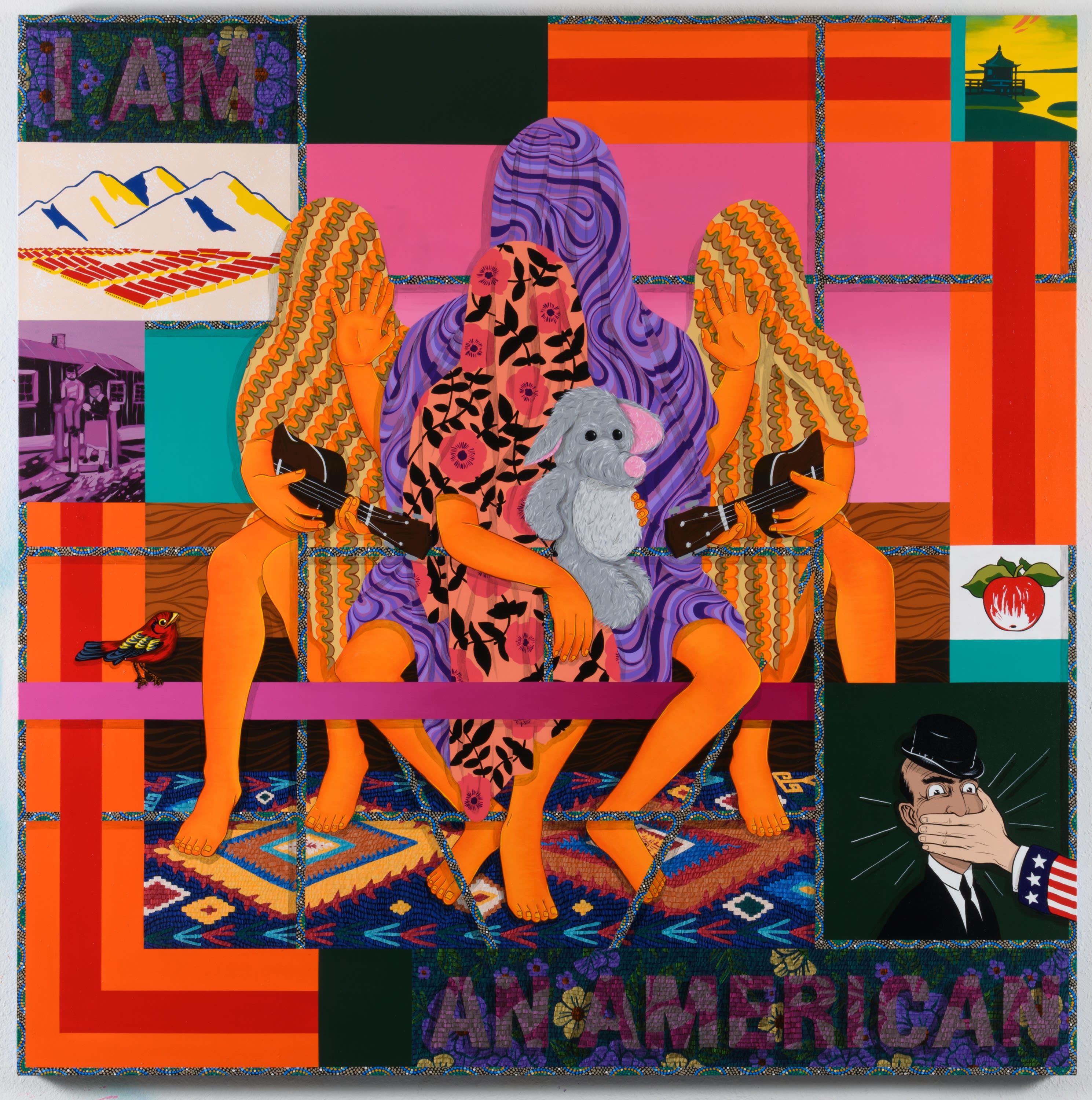 Amir H. Fallah, "I am an American", 2022, 72 x 72 in., acrylic on canvas; photo by Ed Mumford, courtesy of the artist and Shulamit Nazarian, Los Angeles.
WHITEWALL: Congratulations on your ten-year anniversary. What are some of the emotions you are feeling during this major milestone?
SHULAMIT NARAZIAN: There is a great sense of accomplishment in reaching this milestone. Looking back, what really makes me feel joyful is all that I have achieved with my team—all the learning experiences, all the artists that have shown with the gallery over the last decade, all that we've built together through our exhibitions and projects. Both looking back and looking forward I feel the significance of what we do. It's a time to celebrate and I feel that the most from this sense of camaraderie and constant learning.
WW: Your special anniversary show, "10 YEARS," was a group exhibition with 20 artists from the gallery's program such as Coady Brown, Ken Gun Min, and Naama Tsabar. How did you select these works to represent the gallery's past, present, and future?
SN: Our 10th anniversary show was designed to be inclusive, like a big family reunion. We asked each of our artists to make a new piece, with very little input from the gallery. The show included artwork from every artist that we represent, along with a selection of artists that will have their first solo exhibition with the gallery in the coming months.
For the first time in our history, this exhibition brought together all of our artists at the same place and time. It was so lovely to see all of the overlapping concepts. While totally unique, each artist was exploring urgent social, political, and cultural ideas through their personal and lived experiences. These ideas can clearly be seen with artists such as Amir H. Fallah, Trenton Doyle Hancock, or Coady Brown, but the same is true for many artists that are working with abstraction such as Naama Tsabar, Wendy White or Reuven Israel. In their own way, they all connect to the original spirit of the gallery
Coady Brown, "Bouquet #10 (for things that are certain but have yet to come)," 2022, 40 x 30 in., oil on canvas; photo by Ed Mumford, courtesy of the artist and Shulamit Nazarian, Los Angeles.
Reuven Israel, "Half Truths," 2020, 90.5 x 9 x 9 in., MDF, industrial paint and lacquer; photo by Ed Mumford, courtesy of the artist and Shulamit Nazarian, Los Angeles.
WW: What was your initial vision for your first gallery space in Venice, CA in 2012? You initially focused on showing artists from the greater Middle East, highlighting Iranian, Israeli, and Jewish artists. Your inaugural exhibition was titled "My Heart is in the East and I am at the Ends of the West." Why has this region had such a meaningful impression on you?
SN: When I opened the gallery in 2012, I focused on artists that reflected elements of my own heritage. Having
immigrated to the US from Iran, and also being of Jewish descent, I was interested in championing artists that were connected to the Middle East. I wanted to promote an understanding and awareness of these artists in the context of the West, celebrating and giving space to artwork that had not been recognized or supported here. It was a space to explore, experiment, and to create meaningful conversations that helped me, and our audience, understand the world better. In many ways, my original intent has never changed.
WW: How have you seen representation from this region grow within the greater contemporary art scene since?
SN: It is quite fascinating and wonderful to see such growth and awareness of artwork by Middle Eastern artists in Los Angeles, and in the West in general.
Almost every day I learn about new Iranian and Middle Eastern artists and their success as they establish themselves in contemporary art spaces, be that galleries or museums or other places within the art world. It's rewarding to hear and see this growth and recognition, yet I continue to wish for that interest and support to grow going forward. There is so much history, culture, and understanding and I hope it can be kept alive in the West....there is always more to explore and to recognize.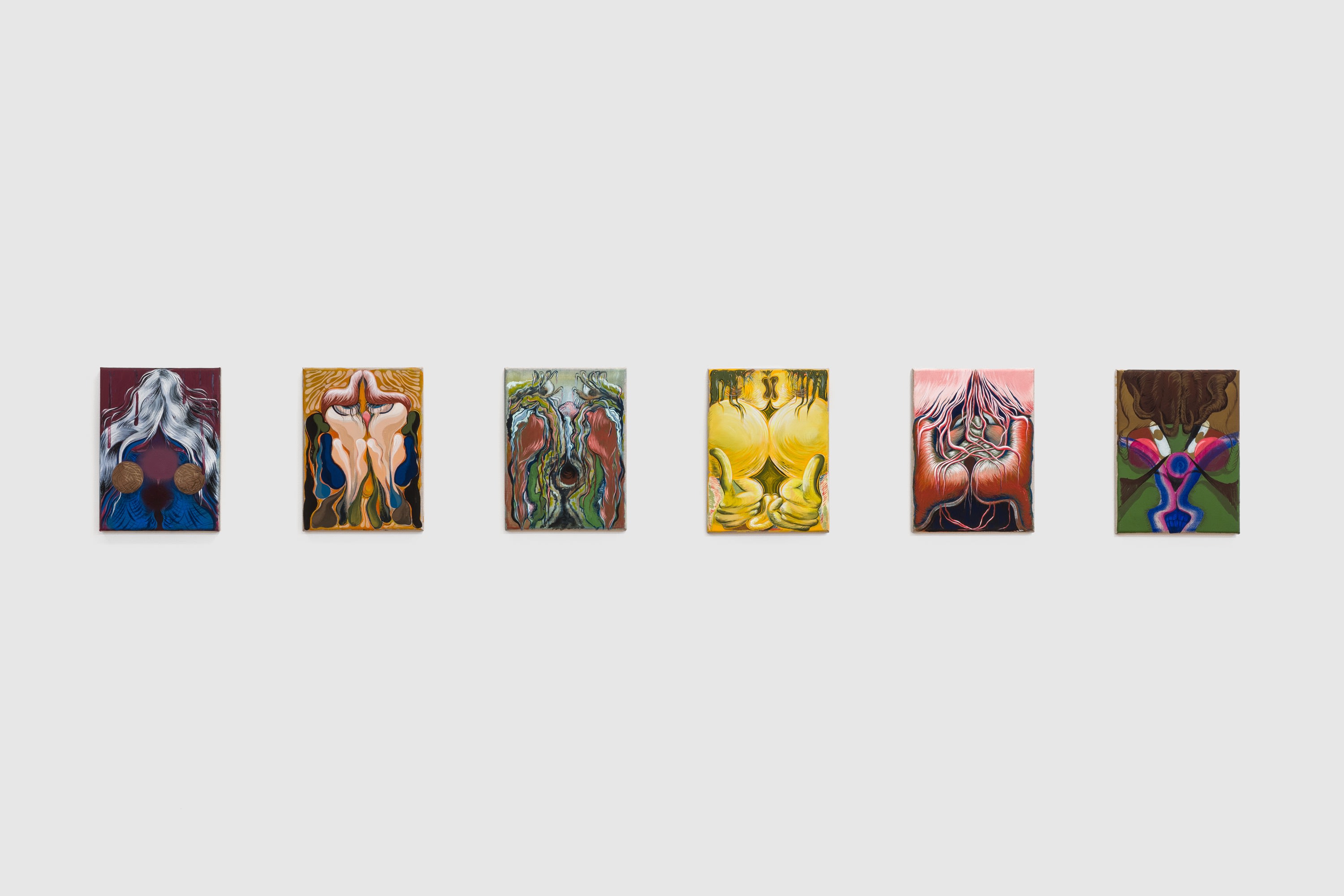 Installation view of "Ten Years," photo by Ed Mumford, courtesy of courtesy of the artists and Shulamit Nazarian, Los Angeles.
Trenton Doyle Hancock, "Me You Were," 2022, 30 x 20 in., acrylic, ink, graphite, paper, canvas and bottle caps on canvas; photo by Ed Mumford, courtesy of the artist and Shulamit Nazarian, Los Angeles.
WW: Can you describe the path of your mission, connecting and celebrating disparate cultures through your unique art program?
SN: Over the years, I found that I can have larger conversations that touch more people if the gallery isn't focused on a singular region or city. In 2016, Seth Curcio joined the gallery as senior director and together, we started to expand the gallery program to a range of international artists—adding Trenton Doyle Hancock, Fay Ray, Amir H. Fallah, Wendell Gladstone and Reuven Israel, all within a year. We continue to grow; just this year we've added several new artists such as Maria A. Guzman Capron, Daniel Gibson, Coady Brown, and most recently Ken Gun -Min. Even though the gallery continues to evolve, a commonality remains the same...each of our artists use their own personal narrative to explore the world and their unique place in it, offering us insight and challenging us to see things a bit differently. I want our exhibitions to help to break down walls, build bridges, and create conversations that shape the way that we all think about and understand our society and our place within it.
WW: Why is it important for you to represent a range of both emerging and established artists?
SN: There are many reasons why supporting artists at various stages in their development is important to us. First, it doesn't matter where an artist is in their career, all artists need support. I also think that a healthy gallery ecosystem must include artists in various stages of their career, each lends something different to our program, and provides us with new opportunities. We always ask our artists for recommendations on who they are most excited about, and many of the artists in our program came to us from other artists. Summer Wheat was introduced to us by Reuven Israel, Daniel Gibson by Amir H. Fallah, and Bridget Mullen by Michael Stamm. In that way our program is very much artist-led. Younger artists get inspired from more established ones, and vice versa. It's also great when we represent an artist that is established in other parts of the US, but that doesn't have a major presence yet in Los Angeles. That often establishes a new level of excitement and respect within our community.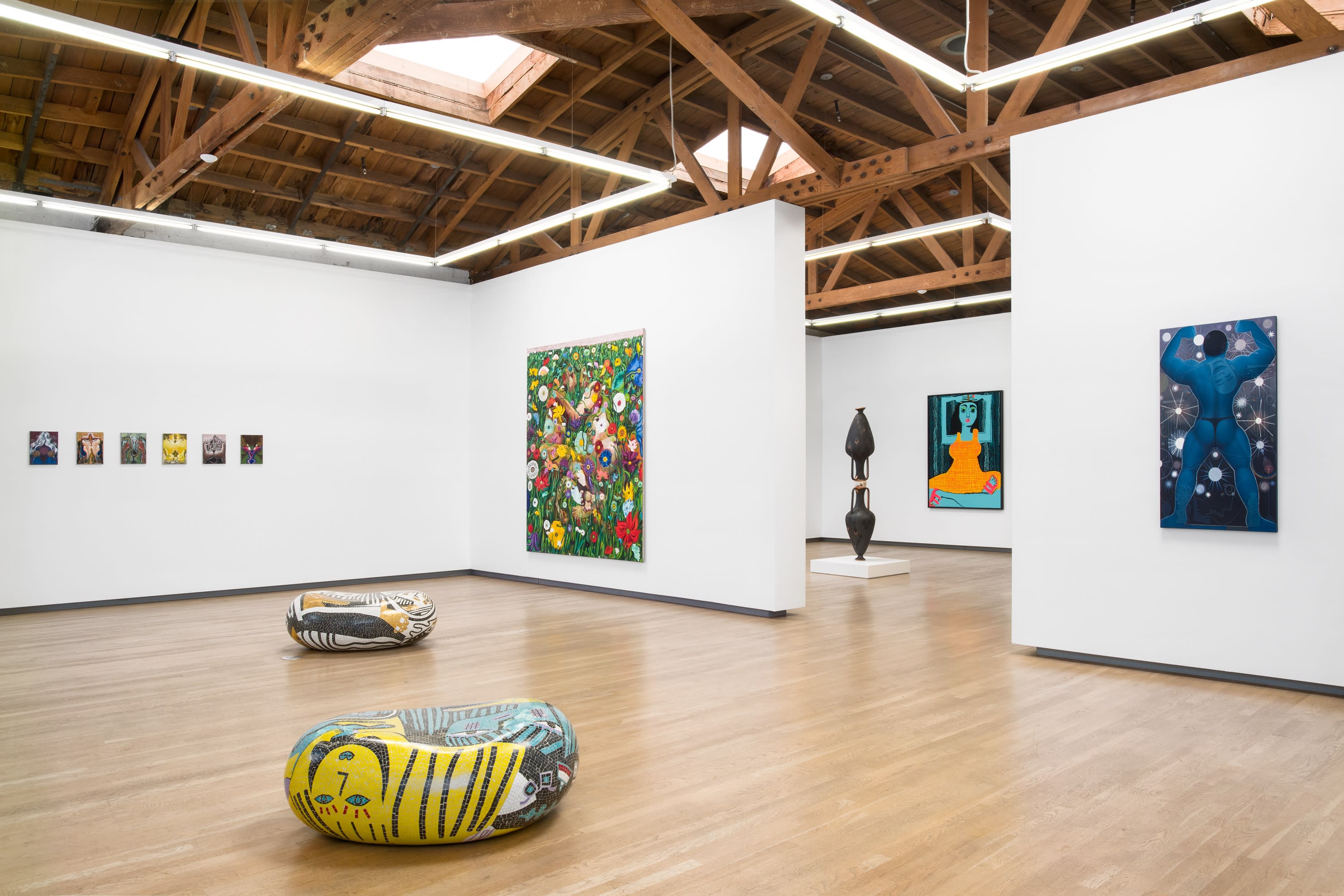 Installation view of "Ten Years," photo by Ed Mumford, courtesy of courtesy of the artists and Shulamit Nazarian, Los Angeles.
Katie Dorame, "Zahn as Mathias in yellow & green," 2022, 20 x 16 in., oil on canvas; photo by Ed Mumford, courtesy of the artist and Shulamit Nazarian, Los Angeles.
WW: When you look back over the years, how have your goals as a gallerist changed, or have they stayed the same?
SN: My ongoing education and experience of the art world and the artists' visions has helped me see better how I can create a space for artists that showcases them in a more holistic way. Through their eyes, I've learned to challenge myself, my understanding of the world, and to work with the gallery team to build a program that is more expansive and inclusive. My main goal has always been to learn from artists, and that has never changed.
WW: What do you enjoy about being part of the thriving art scene in Los Angeles? Can you imagine being anywhere else?
It's always wonderful to see the ever-growing art scene in Los Angeles. There have always been plenty of artists, galleries, and important art schools here, but we're seeing it go even further right now. LA is not only a major center for art and culture, but also a growing hub for art commerce. It's wonderful to be a part of that growth. We see it everyday in our neighborhood of Hollywood. Six years ago, we were one of only a few galleries here, now there must be more than 20 galleries within walking distance—a real rarity for LA!
This city is home for me and I can't imagine not having a gallery here. But, growth is important and there are many interesting cities for art, so LA doesn't feel like the only place the gallery could and should be in its future.
Wendell Gladstone, "Fluttering Flame," 2022, 48 x 48 in., acrylic on canvas; photo by Ed Mumford, courtesy of the artist and Shulamit Nazarian, Los Angeles.
Ken Gun Min, "Ambiguous Yoga Club in Runyon Canyon," 2022, 80 x 59 in., oil paint, Korean powder, found fabric, embroidery on raw canvas; photo by Ed Mumford, courtesy of the artist and Shulamit Nazarian, Los Angeles.
WW: How has the role of the gallery in the local art community changed or expanded since moving its location?
Being in a neighborhood with other galleries next to you always brings a bigger audience. Being centered in the middle of LA, rather than on the edge of LA in Venice, has definitely increased the gallery's accessibility to a much larger community. The vastness of our current square footage also allows us to be much more robust in our programming. We are able to create more complex exhibitions, and now we can host two exhibitions at the same time—these are all added benefits of our current space.
WW: What have been some of the gallery's most treasured exhibitions of the past 10 years?
SN: This is such a tough question! I feel that each of our shows have contributed something significant to our history. We have always tried to create shows that feel significant, and keep the bar high. We try to work with our artists to create a meaningful impression long after any exhibition has closed.
Thinking about pivotal exhibitions for us, I can say that our first exhibition, which focused on local Iranian artists, was a significant one because we collaborated with the Fowler Museum and it was such a meaningful project to start the gallery program. Having that institutional support to back up my belief and my vision that these artists needed to be seen and understood, it was the perfect beginning for the first chapter of the gallery's history.
When we moved to our Hollywood location in 2017, our inaugural show—"Escape Attempts," curated by Kathy Battista—was an exhibition that featured women artists that challenged the legacy of Minimalism from a feminist perspective. That exhibition, which included Naama Tsabar, was very significant to me.
Also, Trenton Doyle Hancock's first solo exhibition was also such a milestone for the gallery. And, just last year, I was incredibly moved by Cammie Staros's solo exhibition, "What Will Have Being." She completely modified the space, redesigned our lighting system, and built aquariums with full living ecosystems in the gallery. That show was very difficult to produce, but it was so rewarding.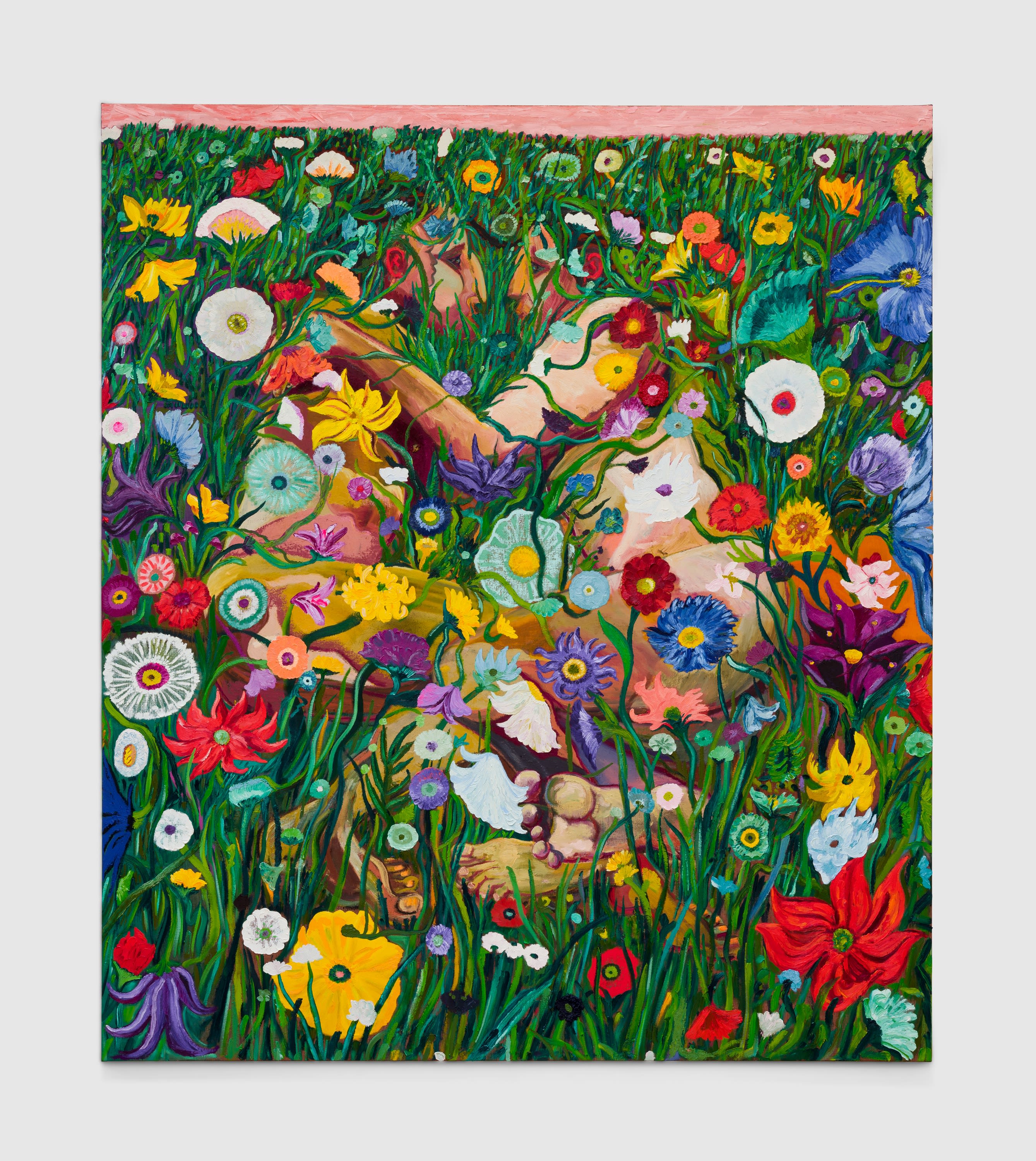 Daniel Gibson, "Two Lovers in the Field," 2022, 90 3/4 x 78 1/2 in., oil on linen; photo by Ed Mumford, courtesy of the artist and Shulamit Nazarian, Los Angeles.
Fay Ray, "Spiral," 2021, 91 1/4 x 50 in., Aluminum; photo by Ed Mumford, courtesy of the artist and Shulamit Nazarian, Los Angeles.
WW: Artist Trenton Doyle Hancock will present a solo exhibition at the gallery in September. He was a part of your anniversary show and has also been selected as a Platform artist for this year's Amory Show in New York. What drew you to Hancock's fantastical narratives and reinterpretation of Biblical stories?
SN: Trenton was initially introduced to me through my gallery partner, Seth Curcio. Trenton is such a leader in his own way and he has been so influential to an entire generation of artists. The elaborate way he builds an entire mythology in his own language is such a significant contribution to the genre of narrative artwork. For me, the use of narration throughout and the biblical level of importance in how he's creating his mythology of the Moundverse gives such depth and meaning to our world. We are very privileged to know him, and to be a
part of his growth and legacy.
WW: What hopes and dreams do you have for the gallery in the next ten years?
SN: I hope to be able to continue bringing in artists with unique levels of creativity and singular voices that our world needs to know about. I hope that we keep our eyes open for these artists so we can introduce them to a greater audience. In the meantime, it's been really rewarding building a team of people who share a passion to support these artists. Our team has given me a lot of hope to continue establishing ourselves on a much larger level, to support those artists we need in history, to create exhibitions, museum shows and collections that tell a bigger story about who we are.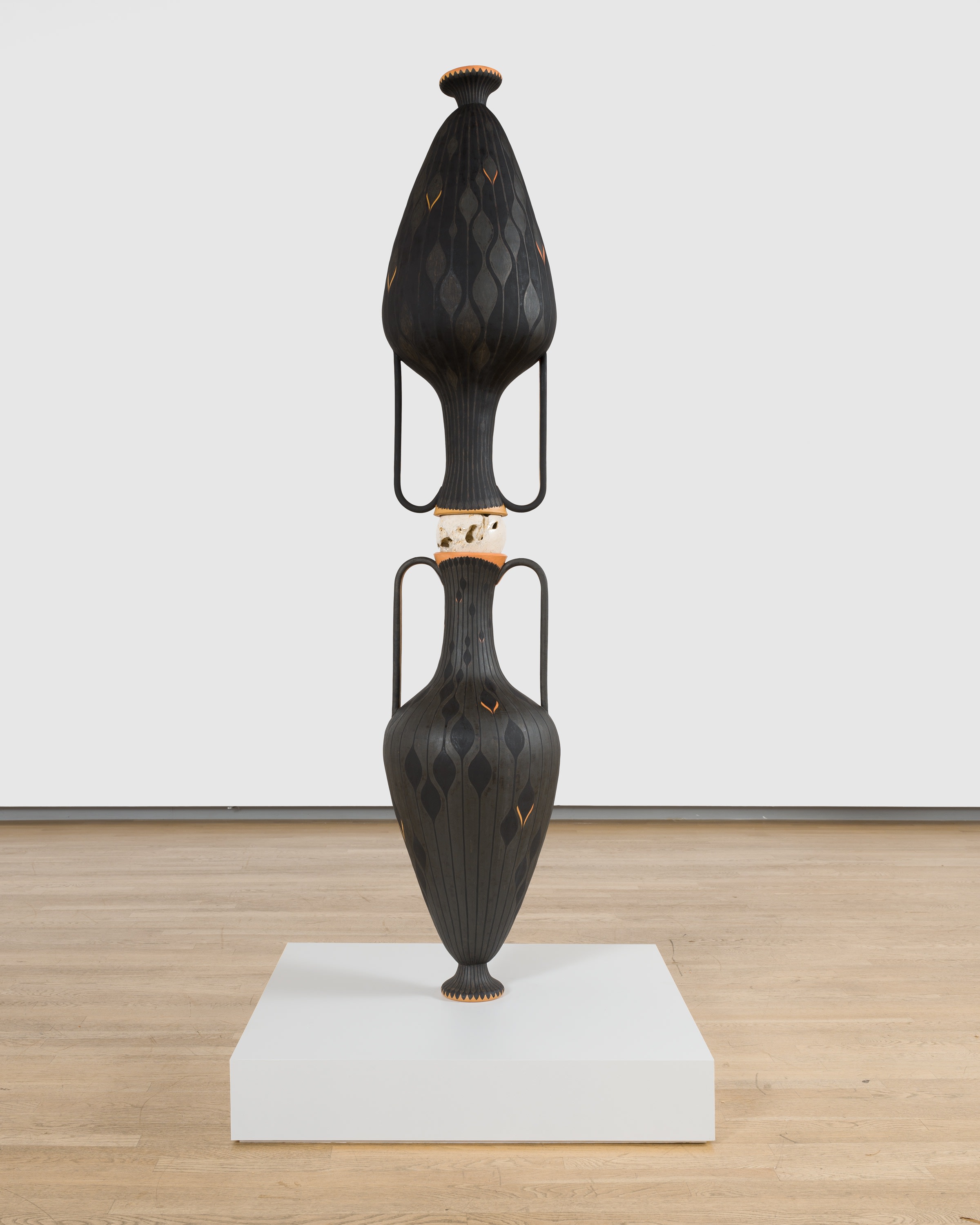 Cammie Staros, "Adversus se," 2022, 73 x 14 x 14 in., ceramic, marble; photo by Ed Mumford, courtesy of the artist and Shulamit Nazarian, Los Angeles.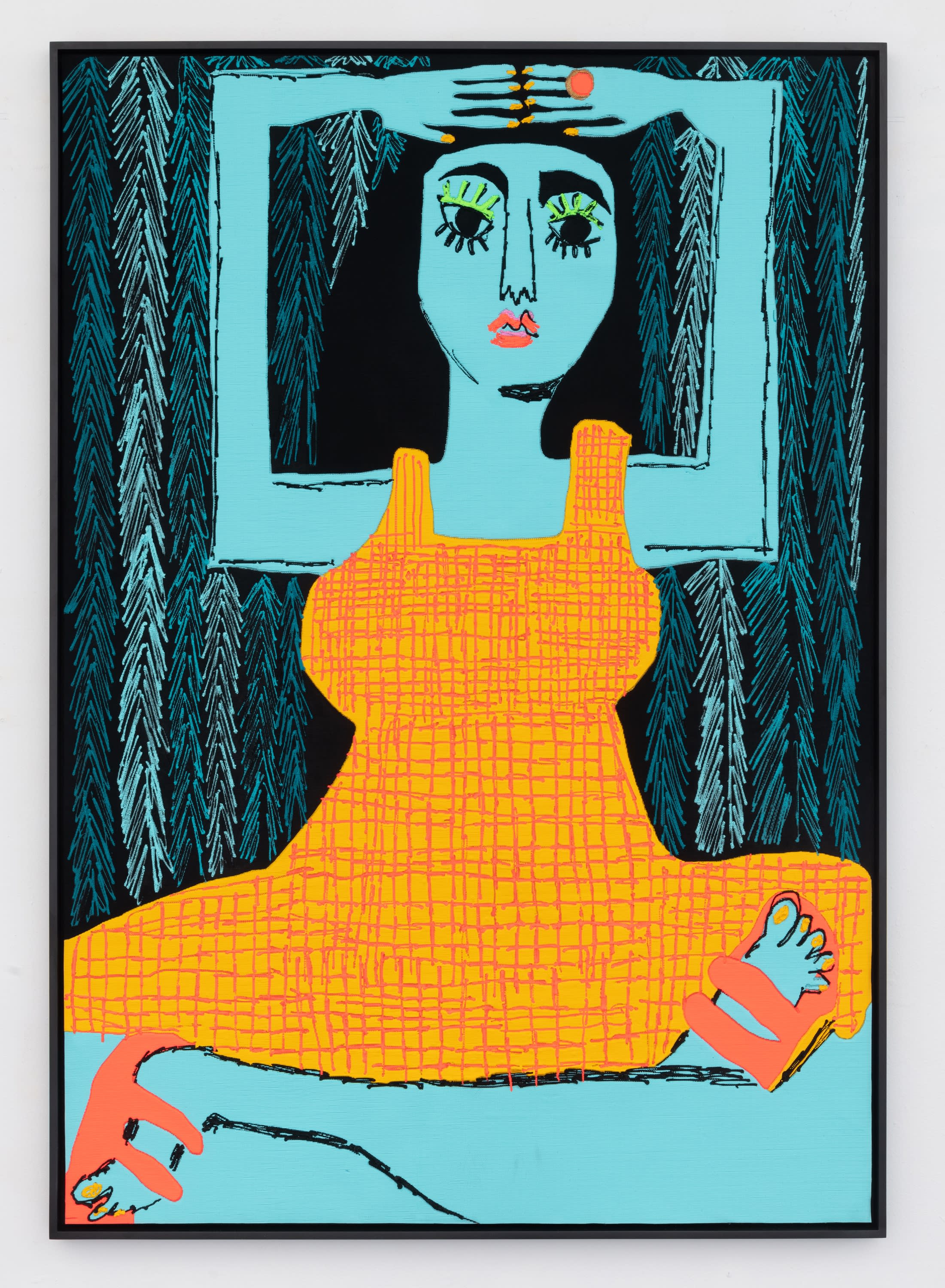 Summer Wheat, "Mustard and Ketchup," 2022, 68 x 47 in., acrylic on aluminum mesh; photo by Ed Mumford, courtesy of the artist and Shulamit Nazarian, Los Angeles.
September 27, 2022