At home in Los Angeles with his wife, the artist Julie Henson, the Shulamit Nazarian Gallery partner reveals an art collection that reflects the couple's personalities over time, through works by Daniel Gibson, Wendy White, and Amir H Fallah.
Elizabeth Fazzare: How did you begin to build your own collection?
Seth Curcio: My wife, Julie Henson, and I met as undergraduate students when we were both studying studio art and art history. We were fortunate to have a really active group of peers in our program who were enthusiastic to trade and live with each other's artwork. Through this group of friends, we brought the first dozen or so artworks into our home, many of which we still live with now. We've kept this spirit alive in the collection over the years. We love to live with work from artists that we know. We love having real insight into how they think about the world and how this influences their practice.
Fast forward a bit: as a partner at Shulamit Nazarian in Los Angeles, I get to collaborate with so many amazing artists and learn about them in a deeper way. We are fortunate enough to collect and live with work by many different artists, including several from the gallery. And, from time to time, Julie will still trade her own artwork with her peers. I love that this is still a part of how we collect. An artist's work is such a special and unique currency and can be a great way to build a meaningful collection. I try to encourage artists that I work with to trade whenever possible.
From left, a 2021 painting by Daniel Gibson and Wendy White, Reprocess, 2015.
EF: What was the first piece you purchased?
SC: One of my first big jobs in the art world was as the director of a nonprofit contemporary art space. We had a really robust program: private artist studios, print shop, and dark room, and an international exhibition program that often provided artists their first solo show after graduate school. One of the first pieces we bought was a set of intimate drawings from an artist based in Seoul—Sijae Byun—that corresponded with a large sculptural installation that we showed in the nonprofit art space. I love that this was one of our first purchases, because we continue to buy work in this way: we like to find ways to support artists that make artwork that many would consider hard to live with. We enjoy finding pieces that speak to an installation or performance artist's practice while still being something that fits well in our home.
EF: Do you have a defining theme to your collection?
SC: Julie and I first met in a sculpture class, and we've always had a deep interest in materials and a love of strange objects. Of course, we collect paintings and photographs from time to time too, but ultimately we are drawn to artworks that are tactile and challenge how we live in and move around our home. For example, we have a sculpture of a small tree that emerges from our floor and has a black balloon tied to the tip. This piece is by Barnett Cohen, and for years he came to our house every three months with a new balloon, as the one before naturally lost it's buoyancy—the piece has a real life cycle! We have a hand carved marble wall relief by Devin Ferrand that takes on the form of a puffer jacket. We have a ceramic sculpture of an oversized hand by a recent UCLA graduate named Charles Snowden. And, we have a sculpture made of wigs that hangs from our ceiling, as well as a neon piece that takes the form of an abstracted necklace with attached metal charms, both made by my wife, Julie.
Regardless of form or content, we are most excited to collect artworks by people within our generation. Artworks that challenge us and give insight into our own personalities. We think of artworks as artifacts of our life and markers of time. I love seeing works that we got 15 or 20 years ago alongside works that we recently acquired; I feel like we continue to learn about ourselves from the objects and images that we choose to live with.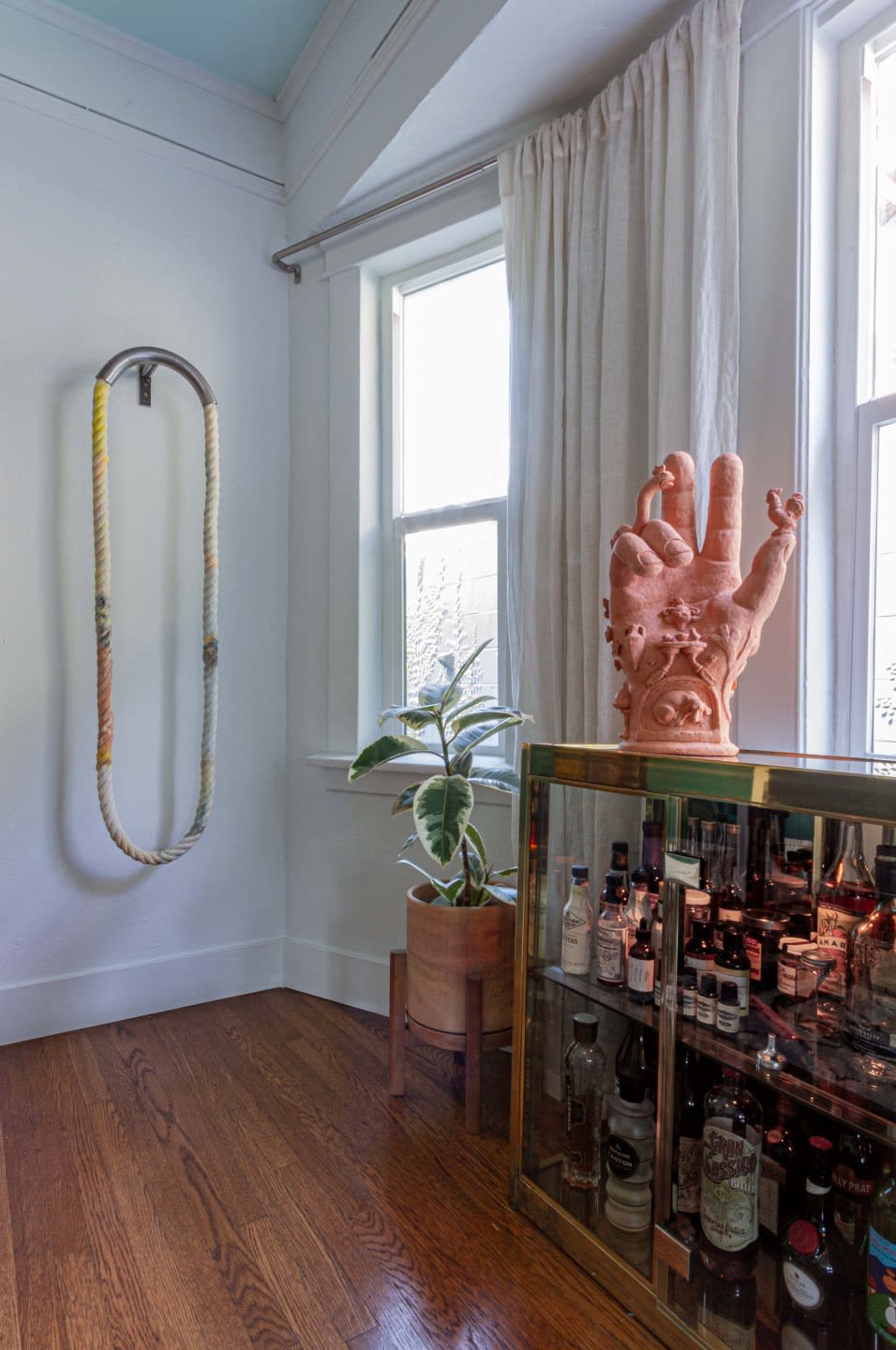 From left, Tori Wrånes,
Hoolahoop for Velvet Hips
, 2017 and Charles Snowden,
To Ward Speech
, 2021.
September 6, 2022