Congratulations to Trenton Doyle Hancock on his participation in
8x5,
a project organized by Art at a Time Like This and SaveArtSpace.
Titled 8X5, the size of an average prison cell, the project is spread across 25 billboards located near courthouses and government offices to provoke a dialogue about the U.S. criminal justice system.

8X5 features commissioned works by leading contemporary artists: Guerrilla Girls, Shepard Fairey, Trenton Doyle Hancock and Sam Durant; plus two renowned artists who have direct experience with incarceration, Sherrill Roland and poet Faylita Hicks.

"End Mass Incarceration!" has become a widely repeated political slogan, yet change and reform has stalled time and again. This exhibition does not just repeat the well-known fact that the U.S. is the leading incarcerator in the world. It delivers an indictment of the judicial system, a system that prevents many from receiving a fair trial. By placing comments and images in the public sphere–in close proximity to the offices of judges, prosecutors and administrators –this project can instigate a conversation with the chief activators engaged in practices contributing to mass incarceration.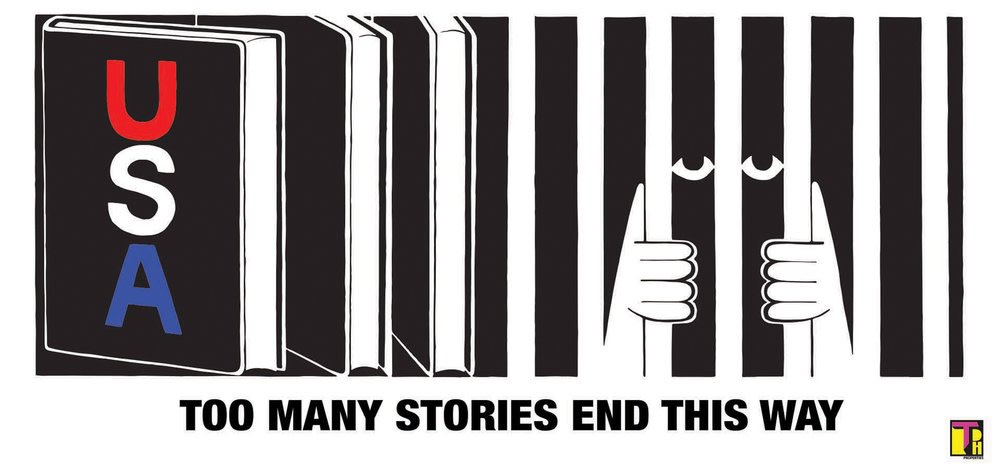 Art at a Time Like This believes that artists and the power of visual images can inspire a rethinking of the incarceral process which has criminalized entire communities through plea bargaining, mandatory sentences, judicial biases and prosecutorial misconduct.
"Everyday, our timelines and media feeds become overrun with the grief, fear, and terror of communities abused and neglected by their governments. In this angst-filled world—maliciously designed and curated by our so-called leaders—Art A Time Like This can and does provide the relief, hope, inspiration, and courage that so many are in need of."
— Faylita Hicks

8x5 is brought to you by the generosity of Jorge Mora, the firm of Willkie Farr & Gallagher LLP, The Barton Family Foundation, and many of our long-term supporters.

8x5 is on view at various locations across Miami June 11 - July 20, 2022

Trenton Doyle Hancock's billboard is installed at the following locations: NW 27th Ave & NW 27th St and NW 20th St & NW 17th Ave.

July 27, 2022