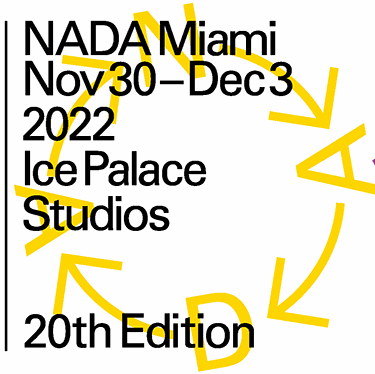 Booth 6.02

VIP Preview:
Wednesday, November 30, 10am–4pm

Open to the Public:
Wednesday, November 30, 4pm–7pm
Thursday, December 1, 11am–7pm
Friday, December 2, 11am–7pm
Saturday, December 3, 11am–6pm

https://www.newartdealers.org/programs/nada-miami-2022/
For NADA Miami 2022, Shulamit Nazarian is pleased to present new works by Berkeley-based artist Maria A. Guzmán Capron; Los Angeles-based artists Amir H. Fallah, Daniel Gibson, Wendell Gladstone, and Ken Gun Min; Houston-based artist Trenton Doyle Hancock; and New York-based artist Summer Wheat.
Through a combination of hand-sewn textiles and paints, Maria A. Guzmán Capron joins together an array of patterns and striking colors to fashion bodily forms. Exploring cultural hybridity, pride, and the competing desires to assimilate and to be seen, her multilayered fiber works emphasize that we consist of several identities, some that we repress and some that we exalt. Composed with a variety of recycled, off-cut, and store-bought fabrics, Capron's practice explores how clothing is used as a marker of class, gender, and cultural identity in a homogenizing capitalist landscape. Drawing from immigrants' experiences, she is invested in the friction of mistranslations—of failing to "dress the part,'' or having one's pride in self-expression overcast by exoticization or coercive assimilation. Signature moves in Capron's work, such as exaggerated body parts, render muscular arms that embrace, puffy fingers that clasp together, and slinky legs that intertwine to become one. Through eclectic fabric and subtly painted brushstrokes, these interlaced figures confront the viewer and become an invitation for vulnerability, openness, and individual expression.
Merging references to his Iranian-American heritage with nods to Middle-Eastern art history and Western portraiture, Amir H. Fallah creates paintings, murals, sculptures, and installations that explore systems of representation embedded in the history of Western art. A continuation of the artist's interest in defying the expectations of portraiture, Fallah's hand-painted figurative sculptures on cut-aluminum strategically enlist ambiguity to represent a figure's personhood, rather than their superficial likeness. The figures, flattened to a narrow plane, stand composed in the anatomically neutral position characteristic of medical treatises and exclude any signifiers of ethnicity, gender, and class. Developed from the artist's celebrated Veiled Portrait series, the ornate patterns that obscure the sitters in the portraits cover the entirety of the sculptures, while the symbolic objects are solely discernible from the outlines they make in both the positive and negative spaces of the work. The artist's ongoing series of socio-historical grid paintings look to archival images to reflect on the way that traditions and beliefs are passed down. Adopting elements of Persian miniature painting, elaborate borders meander across the compositions, dividing the canvas to create a non-hierarchical, non-illusionistic picture plane. Fallah's paintings often employ a lexicon of symbols that amalgamate personal narratives with parables. Serving as a diary of lessons, warnings, and ideals, the paintings investigate how cultural values are passed between generations. Personal at their core, Fallah's works reside in the liminal space of being othered, utilizing personal history as an entry point to discuss race, representation, and the memories of cultures and countries left behind.
Employing references to the natural world while speaking to hardships, resilience, and freedom, Daniel Gibson's paintings explore a lexicon of symbols that relate to his familial past and his identity as a Mexican-American. Growing up along the California border with Mexico, Gibson was confronted by the harsh realities of migration to America at an early age. In an effort to face the bleak nature of these grueling journeys, he turned to his imagination—often reshaping reality with fantasy. As a self-taught artist, he has developed his visual language and painting process through intuition and imagination that shifts between the genres of portraiture, landscape, and still life. Gibson revitalizes the world around him in painting, reverently returning to familiar symbols such as flowers, butterflies, figures, desert mountains, beaches, and seas. For the artist, his works are as much autobiographical as they are collective stories that document moments of struggle and celebration that would otherwise be lost to time.
Wendell Gladstone's surreal figurative paintings evoke dream-like spaces free from the logic that governs daily life. His otherworldly scenes interrogate the hierarchical struggle among a cast of characters as they cycle through chronicles of rapture, unrest, and revolt. Looking to historical European satirical cartoons, Aztec stone carvings and medieval facades, his paintings survey the boundless energy of the human psyche. With a bright, often candy-colored palette layered with transparent gel mediums that subtly reveal the forms beneath, his evocative works immediately seduce the viewer and only later reveal psychologically charged subtexts. He uses allegory and metaphor to examine a wide swath of cultural references—from art history to contemporary politics and personal experience—and allows his subconscious to guide the narratives.
For over two decades, Trenton Doyle Hancock's elaborate works have interlaced personal memoir with the history of painting and pop-cultural imagery. Raised in a Southern Baptist household, the artist spent his childhood immersed in biblical subjects whose power can now be seen in his ongoing exploration of universal themes of good and evil. Infused with both personal and cultural mythologies, Hancock's dense and subversive storylines employ tropes, ranging from comic-strip superhero battles to medieval morality, often introducing text as a key visual component that further complicates the narrative. Hancock's fantastical Moundverse is a metaphorical space that reflects the everyday world that envisions characters that explore timeless polarities like good and evil alongside related issues of race, class, identity, politics, and social justice.
Ken Gun Min's paintings explore intimacy, masculinity, and representation across different cultures. Employing a mixture of European oil paints, Korean pigments, embroidery, and beading on canvas, the artist incorporates styles from various regions across history to consciously practice outside the Western gaze. Often featuring nude and queer-coded men, his portraits and lush landscapes concoct fanciful idylls where longing, melancholy, and euphoria manifest irrespective of societal expectations. For the past several years, Min has focused on the creation of cross-cultural figures and spaces by integrating eastern and western painting styles on a single plane. This practice investigates the way figures and landscapes can be colored by the material and stylistic choices made in their rendering. In both his technical application and the scenes he composes, Min challenges conceptions of sexuality, gender, and race, especially as it is depicted in Western art history.
Favoring malleable structures and expressive color palettes, Summer Wheat's tactile paintings merge process and narrative to ponder individual and collective human experience as seen through various moments in art history. Drawing on rich traditions from Egyptian relief sculptures to Modernist painting, Wheat's textural paintings destabilize material boundaries and elevate quotidian life through scale and movement. Borrowing from the logic of medieval tapestries hung as symbols of authority, Wheat allows acrylic paint to ooze through fine wire mesh causing figures to emerge and dance upon lush, fiber-like surfaces that coalesce into heroic history paintings.
---
Maria A. Guzmán Capron (b. 1981, Milan, Italy; Lives and works in Oakland, CA) was born in Italy to Colombian and Peruvian parents. She received her MFA from California College of the Arts in 2015 and her BFA from the University of Houston in 2004. Solo exhibitions include the Blaffer Art Museum, Houston, TX; Shulamit Nazarian, Los Angeles, CA; Texas State Galleries, San Marcos, TX; Premier Junior, San Francisco, CA; Roll Up Project, Oakland, CA; and Guerrero Gallery San Francisco, CA. Select group exhibitions include Contemporary Jewish Museum, San Francisco; Berkeley Art Center, Berkeley, CA; Shulamit Nazarian, Los Angeles, CA; pt.2 Gallery, Oakland, CA; NIAD Art Center, Richmond, CA; CULT Aimee Friberg Exhibitions, San Francisco, CA; Buffalo Institute for Contemporary Art, Buffalo, NY; Deli Gallery in Brooklyn, NY; and Mana Contemporary in Chicago, IL. Her works have been written about in Hyperallergic, Variable West, Bomb Magazine, and Art in America. Capron is the 2022 recipient of SFMOMA's SECA Award and will have a forthcoming exhibition, Respira Hondo, at SFMOMA in December 2022.
Amir H. Fallah received his BFA in Fine Art & Painting at the Maryland Institute College of Art and his MFA in painting at the University of California, Los Angeles. He has exhibited extensively in solo and group exhibitions across the United States and abroad. Selected solo exhibitions include the Museum of Contemporary Art in Tucson; South Dakota Art Museum, Brookings SD; Schneider Museum of Art, Ashland OR; San Diego ICA; and the Nerman Museum of Contemporary Art, Overland KS. He was the founder of internationally recognized arts, design, fashion, and lifestyle publication Beautiful/Decay.
In 2009, the artist was chosen to participate in the 9th Sharjah Biennial. In 2015, Fallah received the Joan Mitchell Foundation Painters and Sculptors Grant. In 2019, Fallah's painting Calling On The Past received the Northern Trust Purchase Prize at EXPO Chicago. In 2020, Fallah was awarded the COLA Individual Artist Fellowship and the Artadia grant. In addition, the artist had a solo exhibition at the Museum of Contemporary Art, Tucson, accompanied by a catalog, and a year-long installation at the ICA San Jose.
The artist is in the permanent collection of the Jorge M. Pérez Collection, Miami; DESTE Foundation for Contemporary Art, Greece; McEvoy Foundation For The Arts, San Francisco; Nerman Museum, Kansas City; Birmingham Museum of Art, AL; SMART Museum of Art at the University of Chicago; Davis Museum, Massachusetts; The Microsoft Collection, Washington; Plattsburg State Art Museum, NY; Cerritos College Public Art Collection, CA; Los Angeles County Department of Arts & Culture, CA; and Salsali Private Museum, Dubai, UAE.
Daniel Gibson (b. 1977 Yuma, AZ) has had solo and two-person exhibitions at Shulamit Nazarian, Los Angeles, CA; Almine Rech, New York and Paris; New Image Art, Los Angeles, CA; Ochi Projects, Los Angeles, CA; LAX Art, Los Angeles, CA; and Mexicali Rose, Baja, Mexico. Recent group exhibitions include Institute of Contemporary Art, Miami, FL; Institute of Contemporary Art Los Angeles, CA; Shulamit Nazarian, Los Angeles, CA; The Pit, Los Angeles, CA; Bozo Mag, Los Angeles, CA; and BBQLA, Los Angeles, CA. His works have been written about by WideWalls, Juxtapoz, and Brooklyn Rail and are in the permanent collection of the Institute of Contemporary Art, Miami, FL.
Wendell Gladstone (b. 1972, Boston. Lives and works in Los Angeles) received his BA at Brown University, an MFA in Painting at Claremont Graduate University, and attended the Skowhegan School of Painting and Sculpture. He has exhibited in numerous solo exhibitions, including at Kravets/Wehby, New York and Roberts & Tilton, Los Angeles, and, in 2003, at the San Diego Museum of Contemporary Art. Select museum group exhibitions include the Hammer, Torrance Art Museum, Las Vegas Art Museum, and the Chelsea Art Museum.
Trenton Doyle Hancock (b. 1974, Oklahoma City, Oklahoma) grew up in Paris, Texas. Hancock was featured in the 2000 and 2002 Whitney Biennial exhibitions, becoming one of the youngest artists in history to participate in this prestigious survey. In 2014, his exhibition Skin & Bones: 20 Years of Drawing was presented at the Contemporary Arts Museum in Houston, and traveled to Akron Art Museum; the Studio Museum in Harlem; and the Virginia Museum of Contemporary Art. His work has been the subject of one-person exhibitions at The Ringling Museum of Art; The University of South Florida Contemporary Art Museum; The Savannah College of Art and Design; The Weatherspoon Museum; The Modern Art Museum of Fort Worth; The Museum of Contemporary Art, North Miami; Institute for Contemporary Art at the University of Pennsylvania; Olympic Sculpture Park at the Seattle Art Museum; Fruitmarket Gallery; and Museum Boijmans Van Beuningen. In 2019, the artist presented his most comprehensive exhibition to date, Mind of the Mound: Critical Mass, at MASS MoCA, North Adams, MA.
The artist's work is in the permanent collections of the Museum of Modern Art, New York; The Whitney Museum of American Art; Los Angeles Contemporary Museum of Art; The Metropolitan Museum of Art; Brooklyn Museum; The Studio Museum in Harlem; San Francisco Museum of Modern Art; Baltimore Museum of Art; Columbus Museum of Art; The Contemporary Museum, Honolulu; The Cooper-Hewitt National Design Museum; Dallas Museum of Art; High Museum of Art; Museum of Fine Arts, Houston; Modern Art Museum of Fort Worth; Kemper Museum of Contemporary Art; The Museum of Modern and Contemporary Art, Trento, Italy; Museum Boijmans Van Beuningen; Virginia Museum of Fine Arts; Warhol Museum; and Wexner Center for the Arts at Ohio State University.
Ken Gun Min (b. 1976, lives and works in Los Angeles, CA) studied western painting and art history and theory at Hongik University in Seoul, Korea and received his MFA from the Academy of Art, University of San Francisco. Solo exhibitions include Silverlake Dog Park, Shulamit Nazarian, Los Angeles; Wounded Man, Hard-boiled Wonderland and the End of the World, K contemporary, Denver, CO; and Becoming Palm Tree, Gae Po Project Space, Seoul, Korea. Group exhibitions that featured Min's work include Sparkle in, Fade out, Torrance Art Museum, Torrance, CA; Bozomag: Bozo Family Hoedown, M+B gallery, Los Angeles, CA; and 36 Paintings, Harper's, East Hampton, NY. He was a Hopper Prize finalist and received awards from Direktorenhaus, Berlin, DE and the Kellogg Foundation, New York, NY. Min's work has been featured in Artnet, ArtMaze Magazine, Artsy Editorial, and Hyperallergic. The artist has a forthcoming presentation at the Denver Art Museum.
Summer Wheat (b. 1977, Oklahoma City, OK) received a B.A. from the University of Central Oklahoma and an M.F.A. from Savannah College of Art and Design. Solo exhibitions of her work have been organized at the Mint Museum, Charlotte, NC; Kemper Museum of Contemporary Art, Kansas City, MO; KMAC Museum, Louisville, KY; Shulamit Nazarian, Los Angeles, CA; Smack Mellon, New York, NY; Henry Art Gallery, University of Washington, Seattle, WA; and Oklahoma Contemporary, Oklahoma City, OK. Wheat's work is in numerous public and private collections, including the Dallas Museum of Art, Dallas, TX; de Young Museum, San Francisco, CA; Peréz Art Museum Miami, Miami, FL; The Henry Art Gallery at the University of Washington, Seattle, WA; The Mint Museum, Charlotte, NC; the Speed Art Museum in Louisville, KY, and Kemper Museum of Contemporary Art, Kansas City, MO. Wheat has received several awards and prizes including, the Northern Trust Purchase Prize at EXPO Chicago in 2019 and the New York NADA Artadia Award in 2016.